Customs and traditions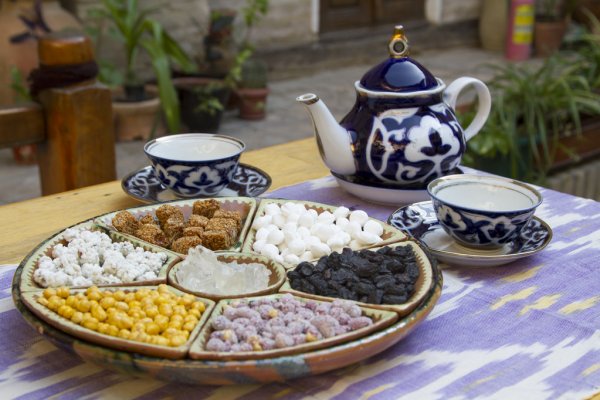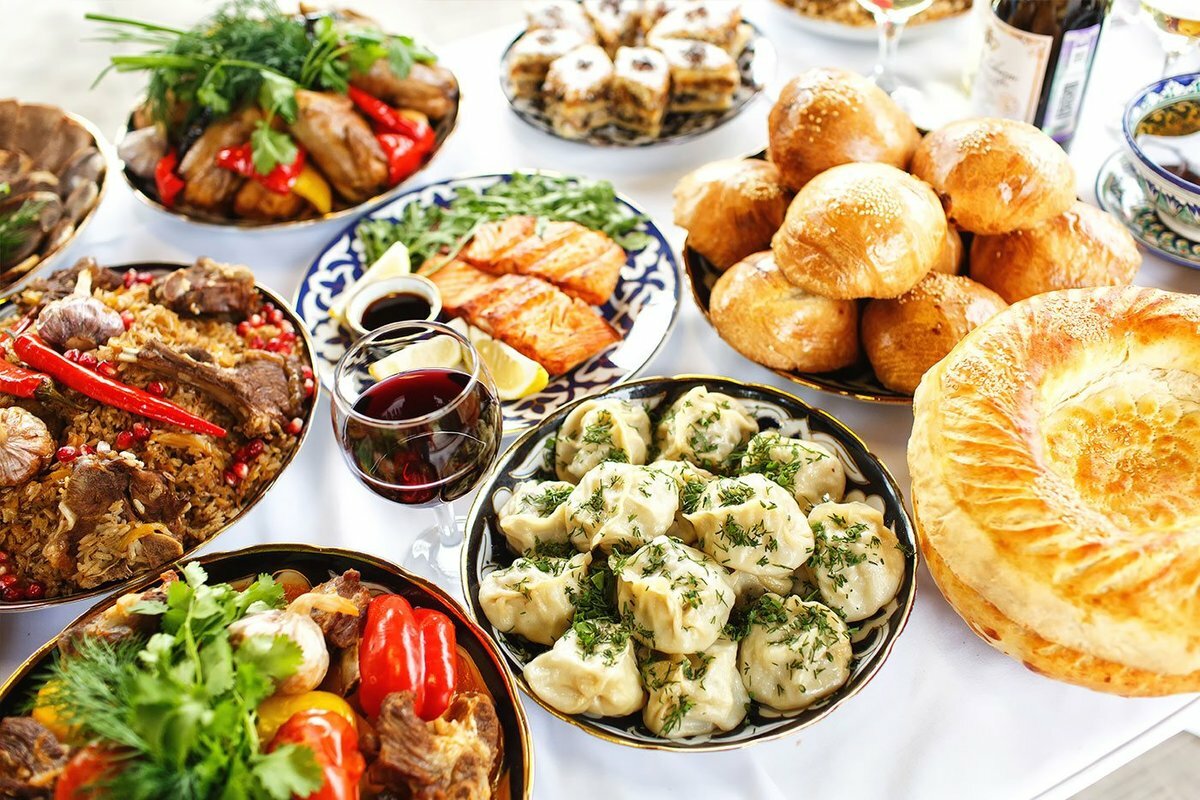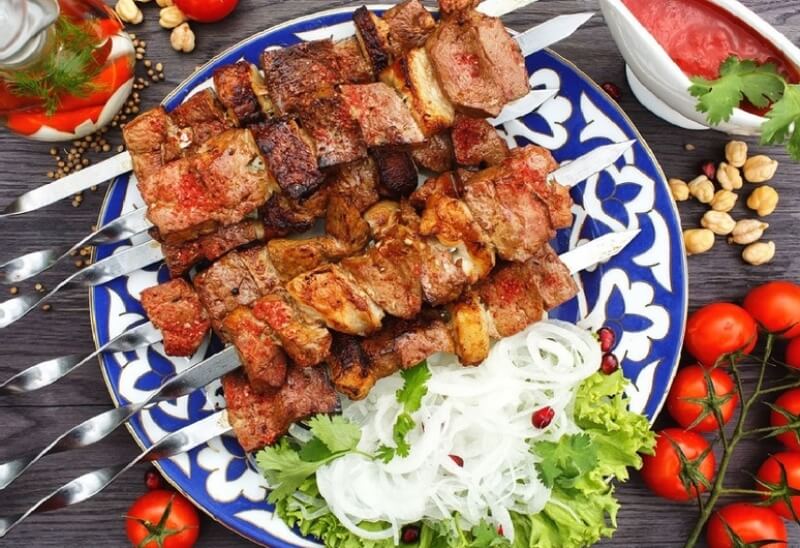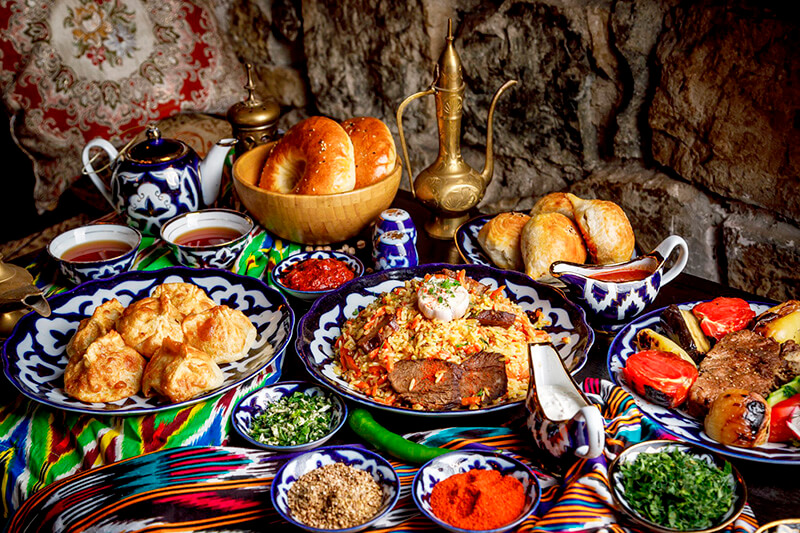 Gastronomy
Not only archeology, history and cultural heritage attract visitors to Uzbekistan, but also diverse ethnic cuisine. Delicious and nutritious meals are an important aspect of traveling.Traditional cuisine of Uzbekistan includes a large variety of dishes, especially lamb and beef, a variety of salads, as well as many vegetarian dishes. And for lovers of fruits and vegetables - Uzbekistan is truly paradise.

Bread
Freshly baked bread with a crispy crust is the best meal that is second to none! For the Uzbek people bread is considered sacred and is treated with care. In Uzbekistan the flat loaves of bread named "non" are baked in a special clay oven "Tandoor ". Two types of flat breads are famous: "Obi – non" - made from flour and water and "Patir non" - from flour, water and lamb fat or butter. There are also flat breads of puff pastry with minced meat, onions or nuts.The history of Tandoor ovens for baking bread goes back to ancient times. Local potters pass on their skills from generation to generation.The baker stick the flat bread next to each other onto the hot walls of the Tandoor and then the bread is sprinkled with water and baked in this way under heat for about 10 min. At once baker can make up to 50 loaves of bread.
Many traditions and customs of the Uzbeks are related to the bread. There are for example the tradition that when a person leaves the house for an long time, he/she bites off a piece of bread and the rest of bread would be kept until the person comes back, being as a protector.Each hostess welcomes guests with bread and tea. Flat bread is not cut with a knife but broken by hand. During the ceremony of engagement, the parents break bread at the table of the bride and groom.
Every province of Uzbekistan has their bread recipes with a unique flavor.The flatbread "Galaosiyo", a village near Samarkand, is famous far beyond the borders of Samarkand. Any guest, who visits Samarkand, buys the bread as a gift. The Fergana Valley is famous for the flaky "Katlama" bread that is consumed with butter and sour cream.
Surprisingly Uzbek bread keeps its unique taste, even when it is stale.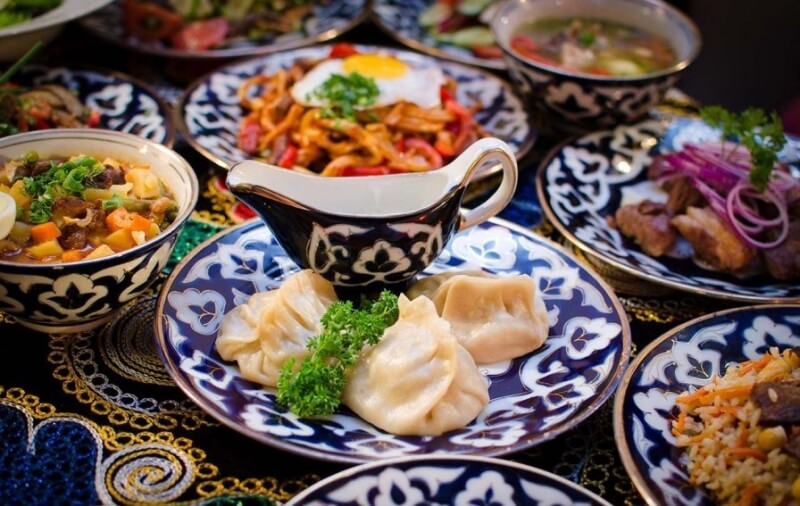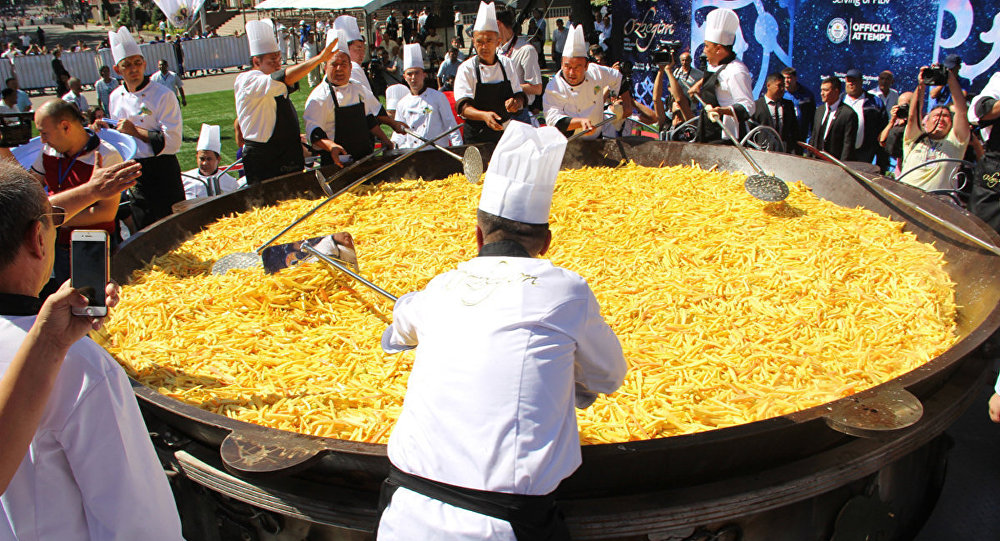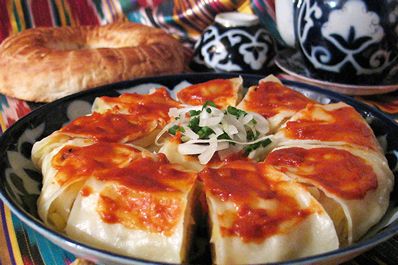 Somsa
Somsa is the most popular pastry in Uzbek cuisine - pastry rolls baked in the oven or fried in oil. There are more than 20 recipes of making it. Somsa come in different shapes: triangular, square or round. Fillings can be also very different: the minced meat with onions, mashed potatoes, vegetables and mushrooms. In the spring is popular somsa with herbs, full by vitamins that nourishes the body after a long winter. And in the winter there is nothing better than somsa with pumpkin.

Soups
Soups have a special place in Uzbek cuisine. They consist of several ingredients that have a high nutritional value and very tasty. Frequently used vegetables for soup - onion, carrot, sweet pepper and tomatoes. Among Uzbek soups the most popular are " Mastava " - rice soup , " mashhurda " soup with rice and mungo beans, " Lagman " - noodle soup , " shourpa " - soup with lamb broth with lots of vegetables , " Mampar " - soup with slices of dough , etc. In Uzbek cuisine are common spices such as cumin, barberry, coriander, sesame, fennel and basil. Soup purees are not widespread in Uzbekistan (except for large restaurants and hotels).

Pilaf
The most famous Uzbek dish is the pilaf, which is one of the most popular dishes of the Uzbek people and served at all events - weddings, family celebrations. Pilaf consists of simple products, but together they create a unique combination. The main ingredients are: rice, meat, onion, cotton seed oil, carrots and spices such as garlic, dried barberries, raisins,and sometimes also fruits like apricots, quinces. Experienced cooks say for tasty pilaf most important ingredients are copper cauldron and.... good mood.

Drinks
In Uzbekistan, the most popular drink is green tea. There are also a large number of other beverages, particularly alcoholic beverages such as wine, vodka, beer. Uzbekistan nowadays produces quite a big quantity of fine wines. The most famous local wines in Uzbekistan is Gulyakandoz , Shirin , Cabernet and Aleatiko . Uzbekistan also has dozens producers light beer.